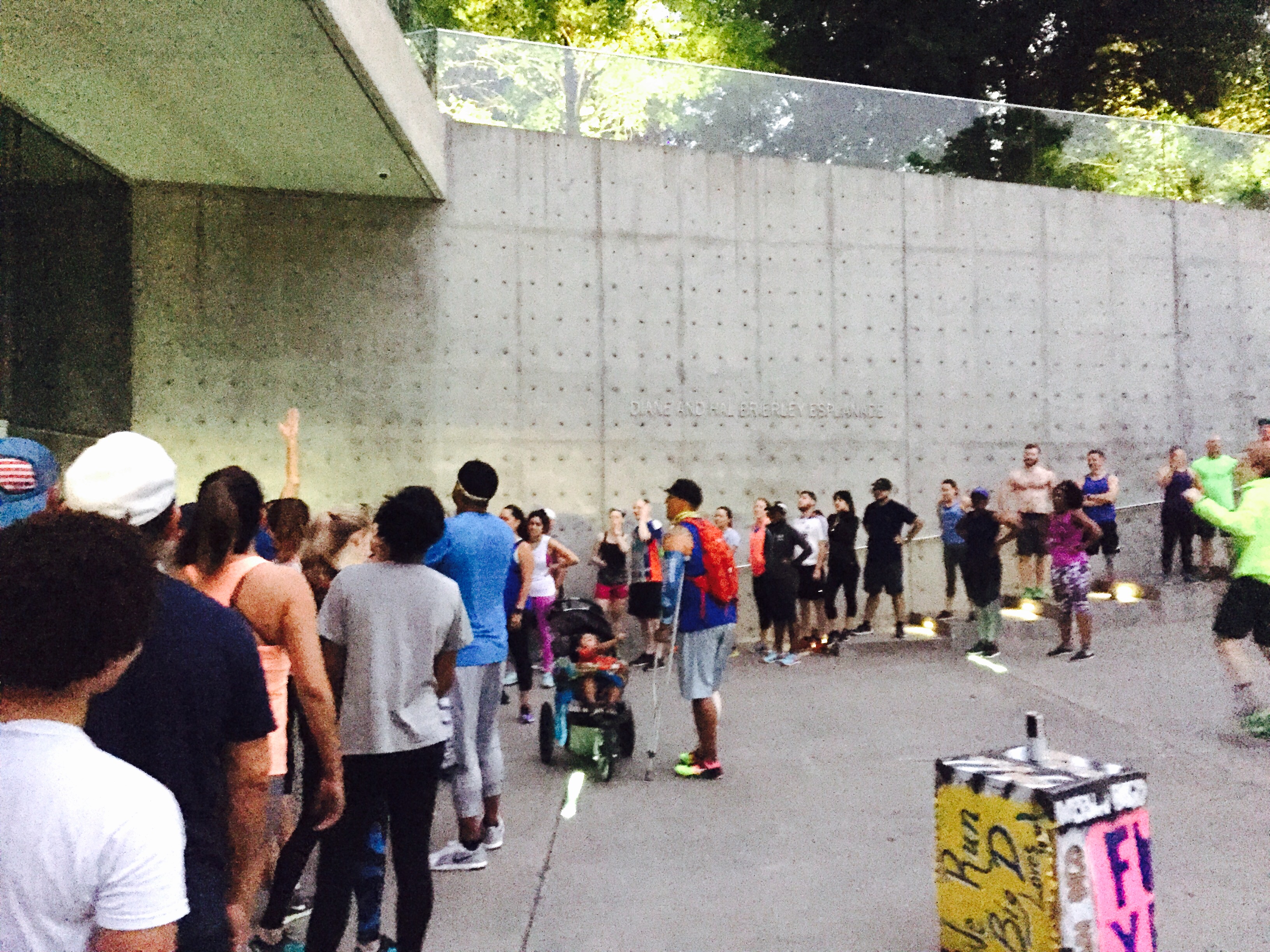 The countoff that shattered We Run Big D's 75 people November Project pledge by 30. Source: Joyce Manalo

Deep in the heart of Texas, a swarm of early sunrisers beelined through a people tunnel and counted off. The final count, 105 sweaty huggers. We Run Big D (WRBD) -- a Dallas free fitness tribe -- crushed its November Project (NP) pledge for 75 people to "just show up" at the Winspear Opera House.

The celebration piñata jammed with limited Lululemon and Nike gear was busted open after a "Rocks, Scissors, Paper Showdown" between Hayden and Chelsea. This tribe is on the verge to officially become November Project-Dallas.

Today's revelry represented three solid years of Manuel "Manny" Gonzales' journey to be one of the cities founded on the accountability, community, fitness and inclusivity principles of November Project (NP). When he moved to Dallas in 2014 from Boston -- the founding city of NP -- he searched for a free fitness tribe like the one he was part of and came up short.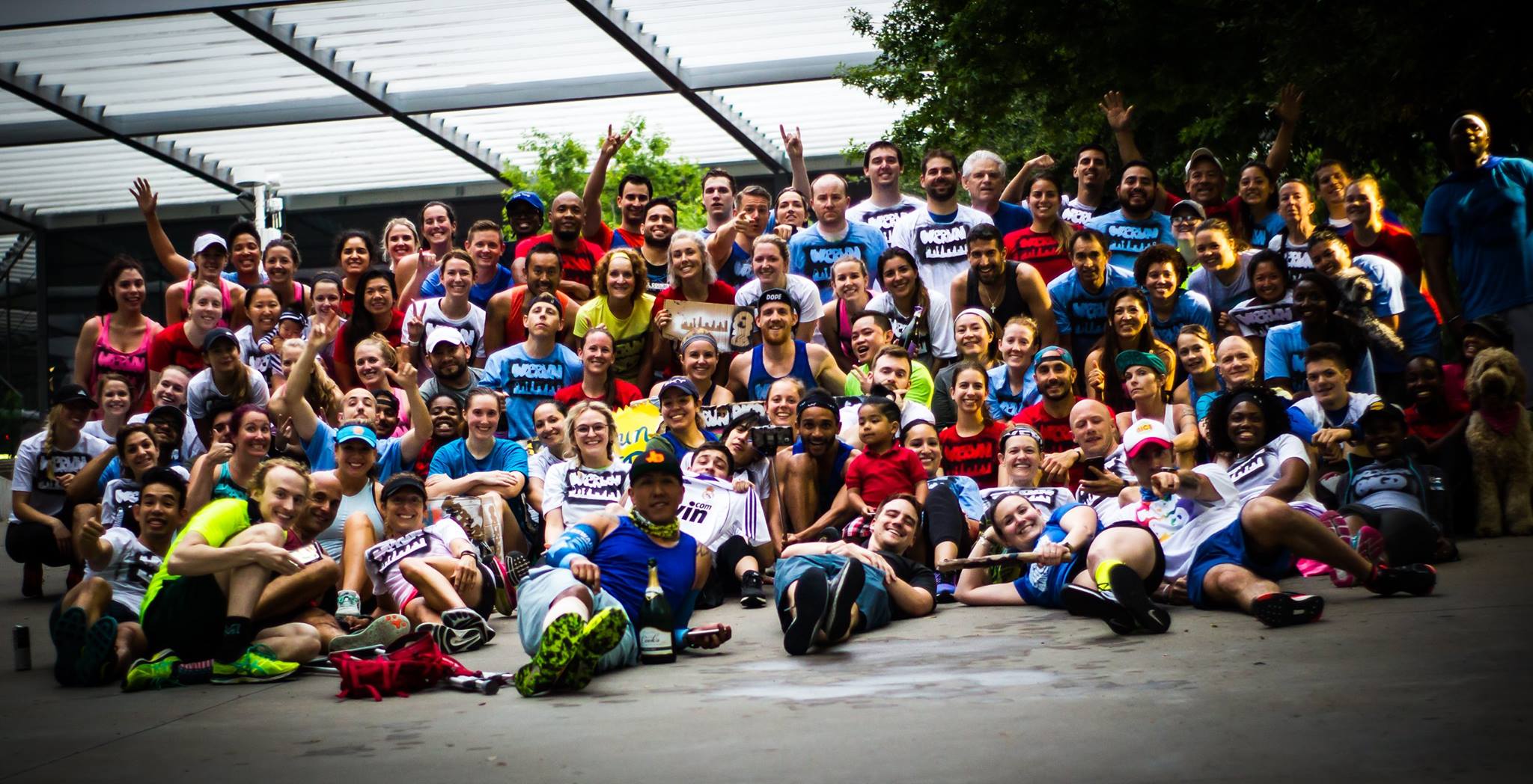 Wednesday, 4/12/17: We Run Big D is 105-people deep! Source: Travis "Blydawg" Blythe, co-leader of We Run Big D.

As many people who have moved to new cities before know, it is tricky to make friends. Joining interest-based groups like WRBD is a good way to start friendships. Manny said, "I just wanted to find true friends. I didn't want to meet people at the bar. I was looking for like-minded people."

Manny decided if you can't find them, let them find you. After studying Dallas' fitness communities on Instagram, he began to understand the players and the type of people who get their workout on. Strategically, he created posts with relevant hashtags and commented on people's post to invite them. He would genuinely say, "Hey girl. Come workout with us!" "It's super chill." "Free sweaty hugs." And week after week, more smiles and new friendships grew the membership.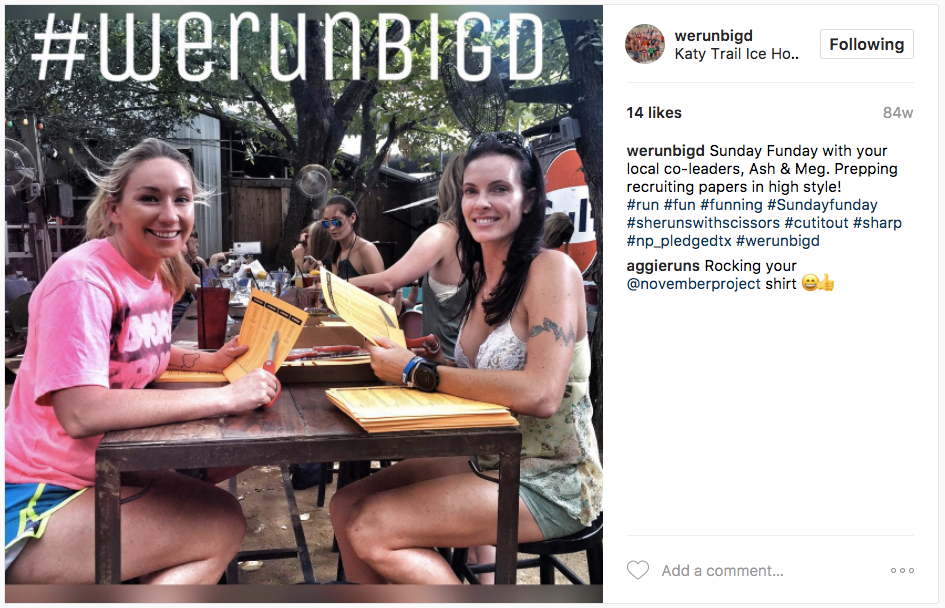 Three of the most instrumental aka O.G. [original gangsters] members from the start include Meg Ramirez, Jimmy Webb and Ashley Williams. Their familiarity with November Project organized and kindled We Run Big D back in 2015. Behind the scenes, Mariesa and husband Manny spent months checking out spots all over Dallas to host the sweaty huggers.
Just Show Up: A slogan to keep it simple so people can get over the mental hump of going to an early AF morning workout.
The trial and error grassroots effort led to three set locations today where people can #justshowup: Winspear Opera House on Wednesdays, W Hotel - Victory Park on Thursdays and Margaret Hunt Bridge on Fridays.
The Bounce: A jumping shoulder-to-shoulder huddle with awesome people to wake up the body and mind through a set of loud vocalizations in the wee hours of the morning.
Travis "Blydawg" Blythe, Amanda Hughes and Harrison Kieffer became the next and current circle of co-leaders. Travis covers the intensity of running and technique, as well as, organizing members to tagging sessions and impromptu trail running. Amanda drives from Fort Worth to show up in the mornings to handle the online and offline social aspect while she adds on more mileage to her long distance running. Harrison's rowing background keeps the tribes' roots to crew culture true.
Tagging: Spray painting workout gear with a stencil represents a badge of honor. It's not something that is just given out. It's earned. Since there are no trophies in rowing, the winning team takes the losers' shirts.
Harrison was a member of November Project in D.C. When he was offered a new job in the fall of 2016, he moved to Dallas. On the frequency to connect with people like he knew in NP, he searched for #NP_Pledge, found WRBD and showed up. "For a while, people knew me as the 'fast quiet guy'", said Harrison. This was surprising because Harrison is the most vocal out of all the co-leaders next to the founder.
"Since Manny and I aren't from the south we have a different way of doing things," said Harrison. He was referring to get people amped with their East Coast style, morning bounce ritual, dry and sweaty hugs -- pre and post workout -- and the all-in rebel yell "F*$# YEAH!". "That's what we need to bring more people into the fold," he added.
Last week Manny, Harrison and I sat down to talk about what We Run Big D means to them and the imminence of November Project-Dallas. That day, WRBD was three people shy of making the 75 people pledge. When described how they felt about almost making that milestone, Manny said one word, "Hyped!" Here's an edited version of our interview:Joyce Manalo (JM): What's the deal with We Run Big D and the word tribe?
Manny Gonzales (MG): We're not a run club. We hate it. We know that the word 'run' is in our name but it's much more than that. When you look up the word tribe, the definition is very different than team. We're building a sense of community. We want people to hangout outside the workouts. One of our newest members, Nguyen Dang invited Allison Palmer -- a visiting member from November Project-Orlando -- to go rock climbing this Thursday. That's dope, I gotta get in on that, what's his number?

Harrison Kieffer (HK): We're different because our workouts are not like traditional run clubs where you have one long track and a pace group. You can get left behind and end up by yourself. We keep it [loop] in a small area, where you can see everyone and not feel alone. If you just decided to get up off the couch, you can join our group. It doesn't matter how fast or slow you are.

JM: Can you talk about where '#verbal' comes from?

HK: The two founders in Boston, "BG" Brogan Graham and Bojan Mandaric were rowers. In rowing, a #verbal is your commitment to show up that day. If you break your verbal and don't show up, your boat doesn't go out. It sucks.

MG: It's all about commitment, health and community. Yeah, you get the benefit of the endorphins from working out but you also get a bunch of people to hold you accountable if you don't show up. "CJ" Clarence Jackson is a prime example. I know him from my work at the Air Force. He had physical goals that he needed to reach for his job. He was also down. He started coming, losing weight, making friends and feeling good. He said WRBD changed his life.


JM: Considering how much larger the community is going to get when it becomes November Project-Dallas, how are you going to keep the intimacy of the tribe?

MG: It's going to be tough. We don't want to lose intimacy. If I left or Harrison left it should still be running. It's about the inner core.

HK: We [NP-D.C.] had a "Danny for the Day". When our co-leader Danny was out someone else got the full appointment to lead the bounce and the workout. So, when someone new comes into the fold we want people to introduce themselves and [organically] introduce them to us.

MG: It's about making everyone feel special. However you do it. It's a big deal. Anyone can be a co-leader. Tywon Omega Thompson joined us recently and he's already led some workouts. We want everyone to feel that they are part of the leadership. #justshowup

JM: Why change We Run Big D to November Project?

MG: I almost feel like we're a knock-off. I pledged to become a November Project city. That's why We Run Big D started.

HK: We share stuff with November Project. We're officially unofficial. Everything we do is based off Brogan and Bojan's model. If it weren't for them I [we] wouldn't be here.

JM: Lastly, I have to ask. Why keep doing this?

MG: Why is that even a question [not in a snobby way]. Why be happy? Why feel good in the morning?

HK: I have gotten so much out of this for myself. Other people have been able to push their fitness limits. Others have met their fiancees and have proposed in the middle of bounces. People love the sweaty hugs. People change their lives.

What do you think about the fitness and community synergy? Please comment below.

Joyce Manalo, Certified Integrative Nutrition Health Coach, believes that living a happy and healthy life is a choice. She primarily works with advertising, healthcare and law professionals who feel the need to take better care of themselves so they can crush it at work and at home. Click here to schedule a free health history session.