Coach Joyce's health coaching working binder. Source: Joyce Manalo
You're in a rut. It's been weeks, months or maybe years since you've been wanting to make changes. Changes to what exactly? To everything and anything in your life -- very overwhelming.
Think of a health coach as your biocomputer's reboot. Once you type in this command, a health coach will help you review, reorganize and reprioritize your biodata: genetics, habits and lifestyle. Assessing this information methodically will pave the way to reset and optimize your bio-operating system.
Everything inside and outside of us has a direct impact on our physical, mental and emotional health. This is why it is so important for Certified Integrative Nutrition Health Coaches like myself to shine a light on the client's career, physical activity, relationships and spirituality. These four areas supersede the food that's on our plate, that's why it is called Primary Food. The food that is on our plate is referred to as Secondary Food.
The truth is, how we feel about ourselves is a function of how we feed ourselves. Health coaches will give you the tools to look at your life holistically to better understand why you eat or drink the way you do. It's all about identifying, peeling and shedding the layers.
Inevitably, there are breakthroughs that will surface during the coaching sessions. Health coaches provide a confidential, non-judgmental space for you to be honest with yourself; co-create challenging yet attainable goals; stay motivated and inspired; and be accountable.
When you realize you need to make a change and keep it to yourself, it is different than to verbalize it to someone who is in the position to help you succeed. Working with a health coach is deeper level of commitment to make for yourself.

HEALTH HISTORY SESSION
The first step is scheduling a complimentary 45-minute health history session. You will receive a health history form to fill out before the session. It's best that you accurately complete the sections that pertain to your personal, social, health -- men and women -- medical and food information. The more open you are, the better your health history session will be.
Establishing a baseline of where you are currently is integral to a good session. Health coaches will examine your responses on the form and leverage the in-person meeting to gather more information. This will allow health coaches to better understand your intentions and gauge your level of commitment.
NOTE: A health history session is complimentary and people are not obliged to sign up for the program.
Once a person signs up for the health coaching program, the client agrees to be coachable, open and accountable. Afterward, they will be given homework to write down their 1-, 3-, and 6-month goals. The purpose of the first session is to reflect on these goals; dive deeper into the different areas of Primary Food; and co-create big picture goals that will become the foundation of the entire health coaching 6-month program.
Why six months? Life happens and no one is perfect. The 12 biweekly sessions allow clients to reflect, implement and recoup by each session. Change doesn't happen overnight. Health coaches understand that clients may fall off the horse and some people get back on right away and some people don't.
If you are 30 years old, you have picked up both healthy and unhealthy habits; "friended" hundreds of people; consumed terabytes of information; and survived breakups and crazy jobs since you left home. That's roughly twelve years of living a certain way, every single day. Six months over this period represents an opportunity to invest only 4% of your time as an adult to catchup and be closer to 100% who you are present day.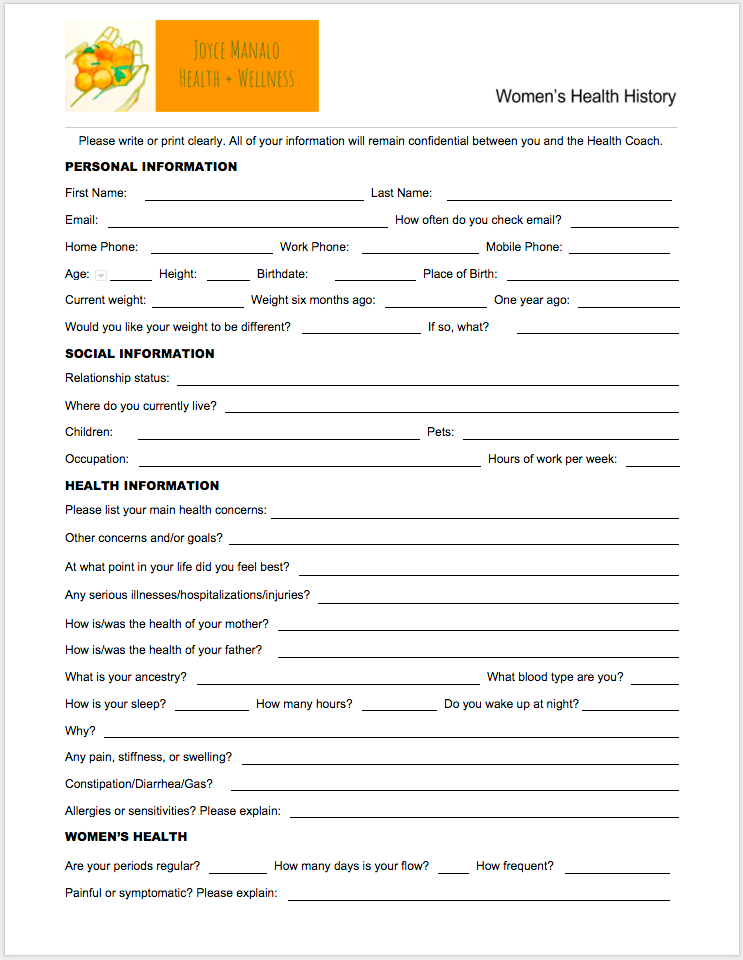 Page 1 of 2 of Health History form.
HEALTH COACHING SESSIONS
Everyone is different. There is no one-size fits all approach. Certified Integrative Nutrition Health Coaches incorporate the concept of bio-individuality to their practice. "One person's food, is another person's poison," says Joshua Rosenthal, founder of the
Institute for Integrative Nutrition
.
As a certified health coach, I am trained to meet clients where they are in their health and wellness journey. If you have never bought organic food, I would not ask you to go all organic. Instead, I would recommend that you try non-GMO and consider specific fruits and vegetables that are safer to eat organic at the very least. Gradual changes are more sustainable. I take this approach to help you make a lasting impact on your career, relationships, physical activity and spirituality.
Before each session, health coaches prepare by reviewing session notes, client progress form and a client revisit form. This allows them to organize materials and giveaways to consistently engage the client to stay on track.
In between sessions, health coaches check-in with their clients by cheering them on and keeping them inspired through helpful tips, articles and invitations to events.
After each session, health coaches complete session notes; update client progress form; send an email to summarize the session and remind clients about deliverables.
Documentation is queen.
Upon the completion of the program, the client will receive a printout of their program summary, revisit forms and client progress. The purpose of these documents is to provide clients with something tangible that represents their transformation over the course of six months. Get ready to celebrate your accomplishments, joy and strength.
You deserve to be happy and healthy. This is my personal mantra as Joyce and professional mantra as Coach Joyce. And this motivates me to help people become the best versions of themselves.
What are some of the things that you have wanted to do for yourself but haven't been able to check off? Please share in the comments below.
Joyce Manalo, Certified Integrative Nutrition Health Coach, believes that living a happy and healthy life is a choice. She primarily works with advertising, healthcare and law professionals who feel the need to take better care of themselves so they can crush it at work and at home. Click here to schedule a free health history session.