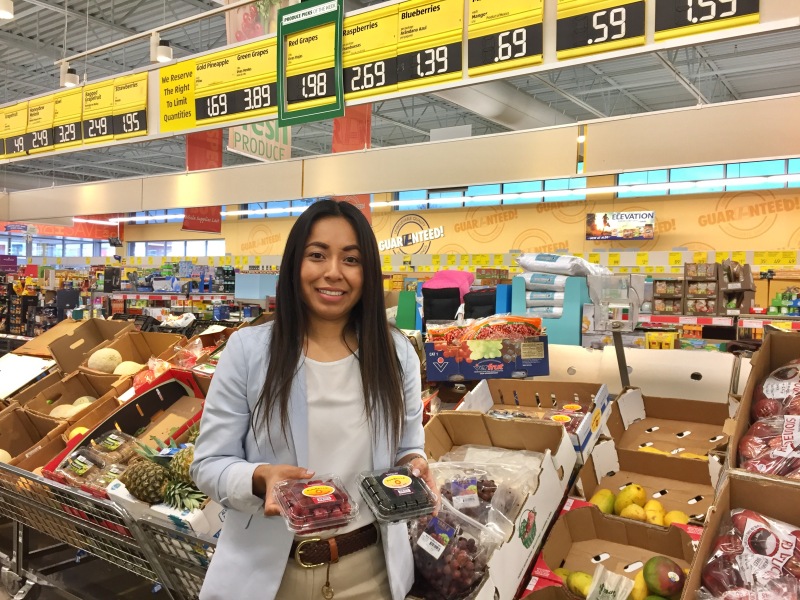 Marisa Aguillon, RDN, LDN, CDE holding antioxidant-rich berries at Aldi's. Photographer: Joyce Manalo
2017 marks the 100th anniversary of Academy of Nutrition and Dietetics. Hooray to all the Registered Dietitian Nutritionists (RDN) out there and the healthcare professionals who advanced their careers to incorporate nutrition into their practice!
National Nutrition Month starts today. I thought it would be apropos to interview an RDN for my blog. I have had the pleasure of meeting RDNs since
American Diabetes Association's Step Out 5K Walk in November 2016
. One of them who has shaped my understanding of nutrition's role in community health is Sharon Cox, RDN, CDE of Parkland Hospital Health System (PHHS). And through her, I met Marisa Aguillon, RDN, LDN, CDE another passionate dietitian. Thank you Sharon for your kind introduction.
Disclaimer: Marisa Aguillon's opinions are her own and not the opinions of Parkland Hospital Health System (Parkland, PHHS).
"She [Sharon] is the super RDN that everyone aspires to be. She's been practicing for nearly 25 years and does so much in the community," said Marisa Aguillon. Both women work at PHHS. Parkland's Community Oriented Primary Care (COPC) is a legacy left by
Ron J. Anderson, MD
. He pioneered these satellite
health centers
-- chronic disease management, preventive care checkups, sick visits, urgent care complete with ancillary services like onsite pharmacy, optometry and behavioral health -- to serve uninsured and underinsured communities in Dallas County.
As Parkland employees, both Sharon and Marisa feel privileged to be community health caregivers. "Having cultural sensitivity is really important to make real changes with my patients," said Marisa. Attaining optimal health is not easy for the population that Parkland serves. "There are so many barriers that we [privileged] don't think about: language, transportation, affordability," she added. Establishing rapport beyond what they ate, what medications they take, what's on their blood test results is crucial to prevention.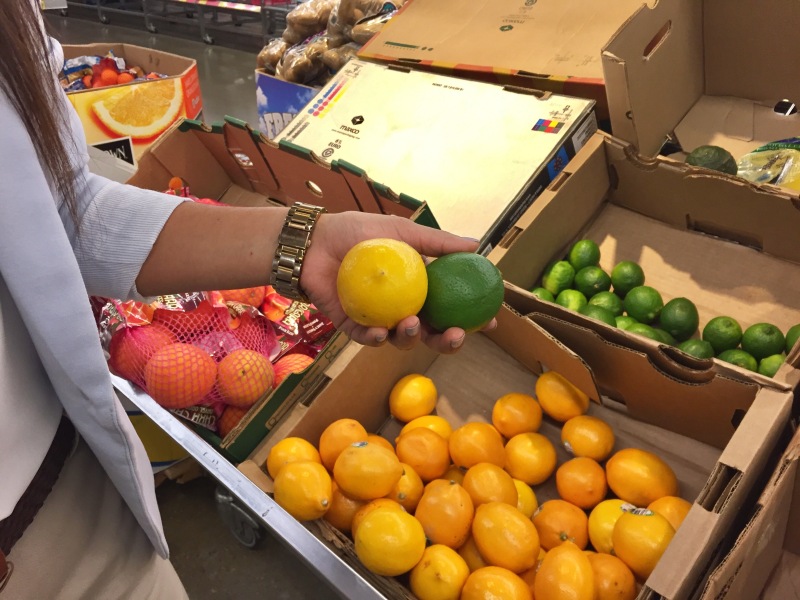 Marisa Aguillon, RDN, LDN, CDE in the citrus aisle at Aldi's. Photographer: Joyce Manalo
Education and self-reliance are paramount to Marisa Aguillon. It was a huge deal for her to graduate high school and attend community college because she is a first generation Mexican-American who is also the first in her family to ever do so.
Originally, her eyes were set on pursuing a career as a Registered Nurse. However, the programs to enter that field were so competitive, so she decided to apply for the Dietetics Coordinated Program at UT Southwestern Medical Center instead. She was accepted and graduated with a Bachelor of Science in Clinical Nutrition in 2011.
Last year, she took the test on her birthday to became a Certified Diabetes Educator (CDE) and passed. "I took the test on that specific day because I wanted that day to be extra special. What a gift I gave myself." Indeed, such a tremendous series of accomplishments!
"My degree has been a life-changing event that came from dedication and hard work," expressed Marisa. At the time, she was with her (former) husband who had colon cancer and had to make a tough choice to protect the future of her two beautiful daughters. She chose to dedicate her time to completing her coursework. She said, "I did not know how long he will be around to support my children." It was not an easy decision but she knew that it was the right thing to do.
Weight has been an issue for her. In high school, she used to be very active. After she graduated and got a job, her lifestyle changed drastically. Barely five feet tall, she confessed that the heaviest she weighed was 185 lbs. Marisa blames sitting at the desk, buying prepared food and not having time to workout. Now she's at a much better weight, eats healthy and squeezes in exercise when her girls are at their extracurricular activities. She said, "If I don't workout when they're active, I won't have time at all."
In about six years, her oldest daughter will be ready to go to college. She is mindful that she needs to teach them what, how and when to eat because once they're out of the house, it'll be up to them to take care of their health. As a family, they discuss the school menu. Marisa makes suggestions on alternative snacks to bring, should the plat-du-jour not meet the standards of a balanced meal.
At Parkland, Marisa treats a wide range of patients -- pediatrics to geriatrics -- with chronic illnesses: cancer, diabetes, heart disease, etc. To Marisa, nutrition is one-on-one because each person is different. "As you become more compassionate towards people's culture, you'll become a better [health] provider."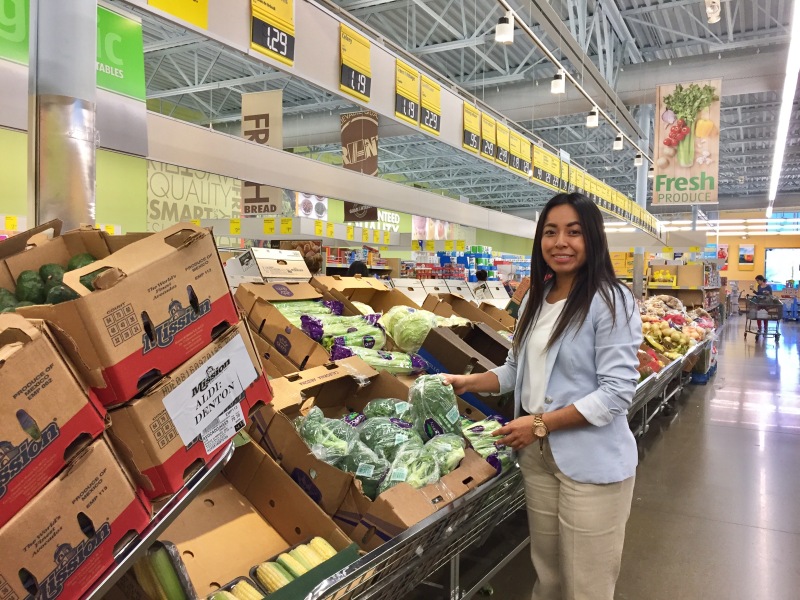 Marisa Aguillon, RDN, LDN, CDE with cruciferous vegetables at Aldi's. Photographer: Joyce Manalo
Marisa's story is truly inspiring for Latino communities, moms, single moms and aspiring RDNs like me. I wanted to get to know her personal take on health, diabetes and nutrition, below is our Q&A:
Joyce Manalo (JM): How do you stay healthy for yourself and patients?
Marisa Aguillon (MA): I asked my two daughters to answer this question for me. How does your mom stay healthy? "You always try to eat healthy and exercise," said Mariela. "I always see you trying to work out when we are dancing or playing soccer. You work hard and we get to do fun things," said Maricela.
Also, mental health is a part of being healthy. I read articles and books about positive motivation. I want every person that walks into my life to feel motivated and encouraged to make a change. The only way I can accomplish this, is being mentally healthy too.
I work hard to raise two strong independent women. They are my biggest motivation. I am the role model to my girls as well as my patients. They are all looking up to me and I have to practice what I preach.
JM: When you talk to patients about nutrition and diabetes, what do you tell them?
MA: I would ask patients what they are interested in learning. Listening is key to help develop an individualized meal plan. I would gear the education to help meet the needs of my patient.
We [the patient and I] go back to the basics of nutrition. I say, "We hear about all these new products, fad diets, teas and pills that guarantee quick results. We need to work on making healthy changes that you will continue throughout your life to better manage your diabetes."
When they have a chronic illness like diabetes I ask, "How are you coping with your diabetes?" because the most important person in developing a meal plan for a person with diabetes is the actual patient. The more I learn about my patients, the better I can tweak a plan for them that basically follows these guidelines:
Eat three meals a day, every 4-5 hours.
Follow the plate method by eating ½ the plate filled with non-starchy veggies, ¼ plate of lean protein and ¼ plate of carbohydrate.
Drink plenty of water and avoid sugary beverages.
Limit or avoid eating empty calorie snacks.
Increase your physical activity with activities you enjoy doing.
Find a support group. You are not alone.
JM: How can patients eat healthier?
MA: It's important that patients don't skip any meals. The majority of Americans are always on the go and go long hours without eating. They need to have a plan for those busy days to avoid the fast food drive-thru. I educate patients to meal plan, prep for the week and cook healthier versions of the food they grew up with. Also, I recommend cleaning up their environment as well as limiting or avoiding buying empty calorie snacks.
As a single mom on a budget who also works full-time, I understand how hard it is to cook every day. On Sundays, the girls and I plan our meals for the week and grocery shop. They participate in the meal planning, as well as, the prepping and cooking so they can learn how to do it for themselves in the future. Also, I keep plenty of fruits, veggies, low-fat cheese and yogurt for snacks. Every night, I serve a veggie with dinner. Lastly, I also modify my traditional Mexican recipes to make them healthier.
What do you think about nutrition off-the-plate? Please comment below.

Joyce Manalo is a Certified Integrative Nutrition Health Coach who believes that living a happy and healthy life is a choice, just like living a sad and unhealthy life is a choice. She primarily work with advertising, healthcare and law professionals who feel the need to take better care of themselves so they crush it at work and at home. Click here to schedule a free health history session.