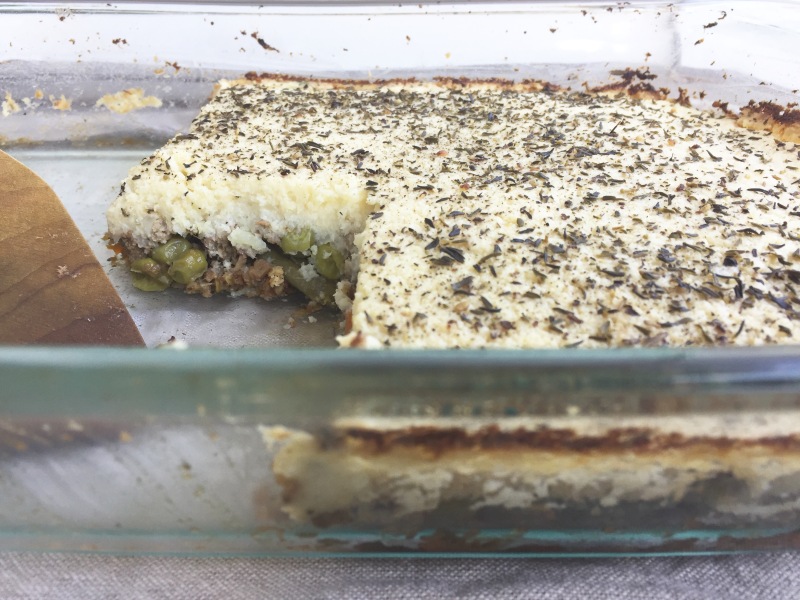 When you're craving a hearty meaty dish in the winter, this plant-based Cottage Pie recipe will surely satisfy the Brit in you.

Ingredients:
1 package of Beyond Meat Beefy Crumbles
1 cup of diced carrots
1 cup of green beans
1 cup of onions
1 cup of frozen peas
2.5 lbs of cauliflower
1 tablespoon 365 Everyday Value Vegan Worcestershire Sauce
4 tablespoons of Earth Balance Soy-Free Butter
4 tablespoons of Bragg's Nutritional Yeast
3 seconds of 365 Everyday Value Organic Canola Oil Spray
1 tablespoon of 365 Everyday Value Extra Virgin Olive Oil
Fresh cracked pepper
Dried thyme

Kitchen Tools:
Hand blender, large skillet, large pot, 9 x 13 inch bakeware and rubber spatula.

Nutritional Value:
Serving 1 cup | Serves 6 people or 6 meals
Great for meal prepping for the week!

Calories 239 | Total Fat 12g | Saturated Fat 2g | Polyunsaturated Fat 2g | Monounsaturated Fat 3g | Cholesterol 0g | Sodium 399 mg | Total Carbohydrate 23g | Dietary Fiber 9g | Total Sugar 9g | Protein 13g

Preparation:
Prep Time 15-20 minutes | Cook Time 40 minutes

Instructions:
1. Preheat oven to 450 degrees.
2. Fill large pot with enough water so there is enough air space between the liquid surface and the steamer basket (I use a metal colander). Turn burner to high heat.
3. Remove the leaves and stems from the cauliflower and cut the florets in 8-10 pieces.
4. Once you see the steam rising from the pot, place the cauliflower in the steamer and cover for 10-15 minutes.
5. Wash carrots and string beans. Cut string beans into 1 inch pieces. Dice carrots and onions.
6. Heat burner to medium high heat and add olive oil.
7. Remove the steamer with cauliflower set aside. Dump the water out of pot, let stand on stove (off) until pot is dry.
8. Saute onions until translucent, roughly 5-10 minutes. Add carrots and string beans, stir and cook for 5-10 minutes until slightly tender. Add Beyond Meat crumbles, peas and worcestershire sauce. Crack some pepper to your desired taste. Stir mixture and cook for 5-10 minutes. Let stand.
9. Add the cauliflower back into the pot. Add vegan butter and nutritional yeast and blend well.
10. Place the filling into the bakeware evenly. Then spread the mashed cauliflower on top evenly with a rubber spatula.
11. Crack some pepper and sprinkle dried thyme on evenly on top of the cauliflower layer. Spray organic canola oil evenly.
12. Bake in oven for 20 minutes on middle rack. Then place in top rack to broil until cauliflower is golden brown about 5-7 minutes.




Recipe Notes and Tips:
The difference between Cottage Pie and Shepherd's Pie is the meat used in the recipe. In Cottage Pie, beef is used and in Shepherd's Pie, lamb. Although I didn't use beef from a cow, I defaulted to Cottage Pie because I used Beyond Meat Beefy Crumbles.

No table salt was added to this recipe. However, Beyond Meat Beefy Crumbles contributed 70% of the 399 milligrams of sodium. The rest came from the vegan butter and worcestershire sauce.

Please be mindful about the sodium content when including processed food into your recipes, even if it's plant-based. This recipe accounts for 26% of the daily ideal sodium intake.

If you'd like to make this recipe as is, just make sure you are watching the sodium content of your meals and snacks that day.

Ideally, we're looking to score no more than 2,300 mg or 1,400 mg or less of sodium daily intake -- depending on pre-existing conditions -- according to the American Heart Association.

Minimalist Baker had a recipe for Shepherd's Pie that I referenced and it called for lentils and mushrooms. I wanted to save time and had a craving for beef so I opted for Beyond Meat's plant-based alternative. It's a tradeoff.

As a substitute and in hindsight, I would recommend using 1.5 cups of finely chopped crimini mushrooms and only 1 cup of the beefy crumbles. Feel free to cut 4 tablespoons of vegan butter to 2 tablespoons, if the sodium (and fat) content is still too high for you.

Although the total sugar is 9 grams per serving, it's not bad at all, because less than 5% is added sugar. The caulilflower and peas contributed the most sugars.

I wanted to be mindful of the high glycemic index of my recipes. To provide a comparison, potatoes are 82 on Harvard Health's Glycemic Index list, while cauliflower is 15 and potato is 82. Hence, I used the cauliflower instead, as well as, vegan butter for creaminess and nutritional yeast for cheesiness.

If you are not comfortable dicing or prepping fresh carrots and string beans, use the frozen variety. That would change the recipe to include 2 cups of frozen carrots and peas and 1 cup of frozen and cut string beans. This will cut down on prep and cooking time. After the onions are translucent, add the frozen vegetables and worcestershire. Sautee for 5-10 minutes.

What do you think about this recipe? Please comment below.

Joyce Manalo -- Certified Integrative Nutrition Health Coach, Licenced Community Health Worker, and American Diabetes Association volunteer -- believes that living a happy and healthy life is a choice. She primarily works with advertising, healthcare and law professionals who feel the need to take better care of themselves so they can crush it at work and at home. Click here to schedule a health history session.